Essence of Chicken 30s x 68ml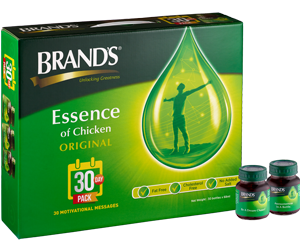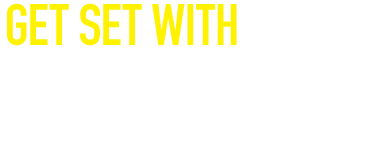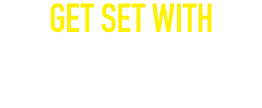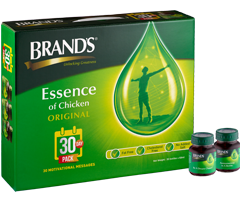 BRAND'S® Essence of Chicken is the Original Essence of Chicken that's been trusted for its goodness for over 180 years. After all, it's a recipe that was originally brewed for the benefit of King George IV.
It is made of an all-natural extract of fine quality chicken hygienically processed under high temperatures. Fat-free and cholesterol-free with no artificial chemicals or preservatives, the goodness of BRAND'S® Essence of Chicken is sealed air-tight by a patented triple safety cap.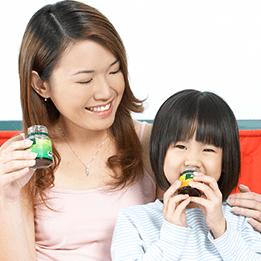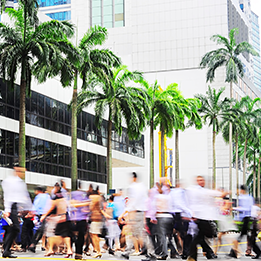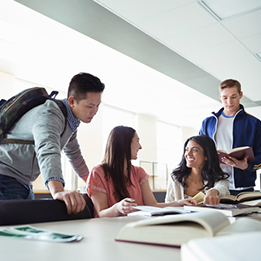 Ideal for busy executives living life in the fast lane, mums balancing hectic schedules and students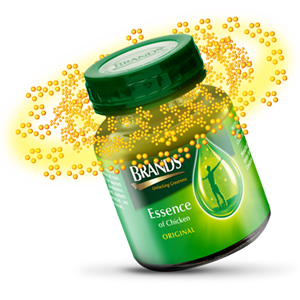 Over 180 years of expertise in Essence of Chicken
Since 1835, we have devoted ourselves to providing consistently high quality Essence of Chicken for your nourishment.
Zero fat, zero cholesterol
A high-speed centrifugal process removes excess fat and cholesterol, making it safe for daily consumption.
Carefully selected chickens
Chickens are bred in an isolated, pollution-free environment under close veterinarian supervision to ensure that products are free of drug residues and growth hormones.
High-quality production
From material selection to bottling, every process undergoes stringent quality control testing. The entire production line is open for
public visits. All BRAND'S® Essence of Chicken products are made with chickens from leading poultry suppliers, reared in a pollution-free, temperature-controlled and safely enclosed farm, closely monitored by computers.

Unlike traditional open farms, chickens are not exposed to other aviary animals, eliminating the risk of contamination.

Chickens are rigorously inspected by state-accredited veterinarians before the final check by BRAND'S® quality assurance personnel to ensure the highest quality and hygiene before it is processed in BRAND'S® factory.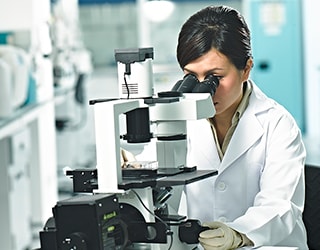 Over 500 quality control tests
Stringent quality control processes ensure products remain growth hormone and preservative-free.
Compliant with multiple quality control and occupational health & safety standards.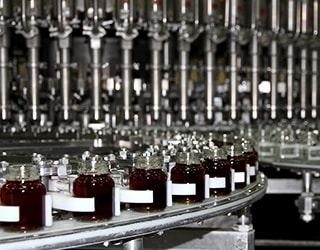 Transparent production process
Don't take our word for it, our production plant is open for public visits so see it first-hand.
Patented triple-secured bottle design ensures a perfect seal that locks in the essence.


Myth:
BRAND'S® Essence of Chicken will cause 'heatiness'.
Fact:
Different people react differently to BRAND'S® Essence of Chicken. It is:
Dependent on their unique body composition.
Dependent on their daily activities and sensitivity towards product intake.
Staying up late or consuming warming foods such as longan, chilli and even wine can cause 'heatiness!'
Myth:
BRAND'S® Essence of Chicken is relatively high in salt.
Fact: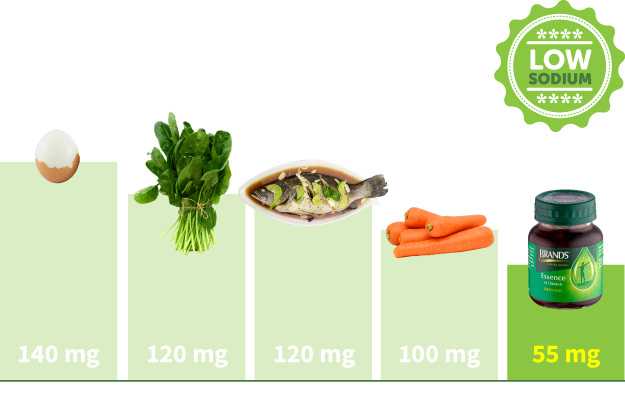 BRAND'S® Essence of Chicken has one of the lowest amounts of sodium amongst common foods.
Myth:
BRAND'S® Essence of Chicken leads to premature puberty because growth hormones are used in the chickens.
Fact: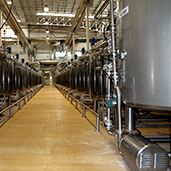 Quality chicken
Enclosed farm
No growth hormones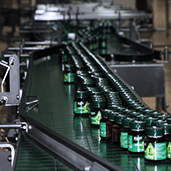 Proprietary production process to extract the active substances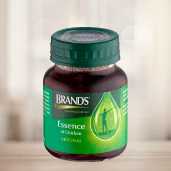 No added salt
No added preservatives
Cholesterol-free
Fat-free


Is BRAND'S® Essence of Chicken suitable for Muslims?
Yes, it is produced in our factory in Malaysia and it is halal-certified.
Can I take two bottles in one go?
Yes, you may. However, we would recommend drinking one bottle at a time to maximise the absorption. For example, take one bottle in the morning and another bottle in the evening. Good health comes from within and long-term nutrition should be consistent. We also advise consumers who have gastric problems not to consume too many bottles in one go to avoid gastric discomfort.


A bottle daily
Can be taken at room temperature, warm or chilled. Once opened, the contents should be refrigerated and consumed within 24 hours. Take it daily, anytime, anywhere as a part of a balanced diet.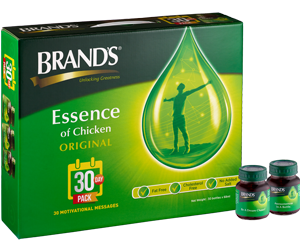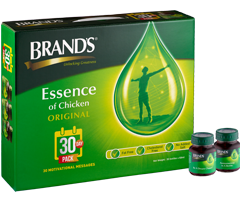 Fat-free. Cholesterol-free. No preservatives. No added salt. Premium quality chicken.
Nutrition Information
Serving per package: 30
Serving size: 68ml
Carbohydrate
less than 1 g
Less than 1 g
Dietary fiber
less than 1 g
less than 1 g
Essence of Chicken
99.68%
Caramel (Natural Source)
0.32%