Tracking Number = Order Number
Essence of Chicken with Vit B Complex + Iron 60 Tablets
Get ready to face the day with BRAND'S® Essence of Chicken in convenient tablet format. Fortified with Vit B Complex and Iron to reduce tiredness and improve concentration.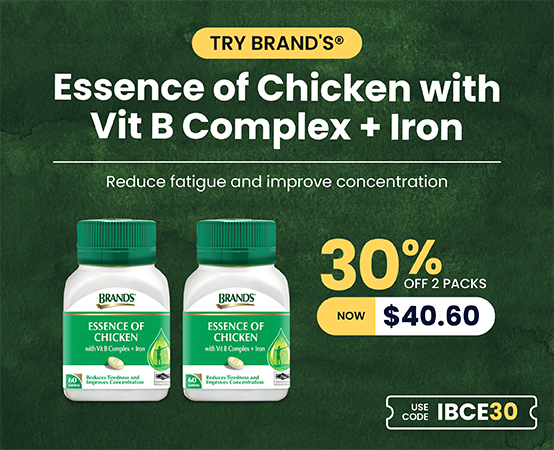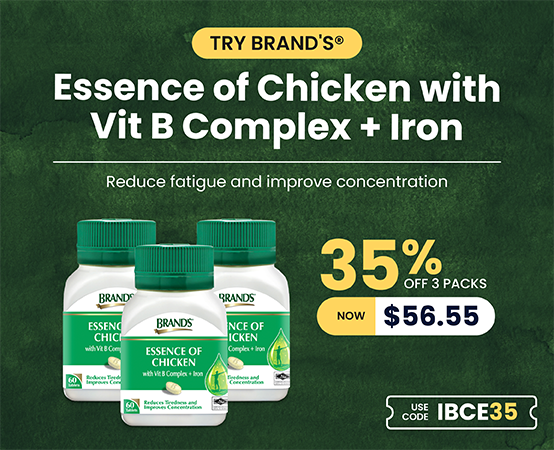 BRAND'S® Essence of Chicken with Vitamin B Complex + Iron (IBCE) contains a dual-action formula to improve mental alertness and concentration, making it easier to meet everyday challenges head-on. Vitamin B Complex aids energy production to support brain function and a healthy nervous system, while Vitamin E helps protect brain cells against free radical damage. This tablet-form supplement is also fortified with Iron to assist in the formation of haemoglobin in red blood cells, which transport oxygen to organs.
WORKING PROFESSIONALS DEALING WITH STRESSFUL JOBS AND LONG HOURS
STUDENTS TACKLING DEMANDING STUDY SCHEDULES
TIPS TO SHAKE OFF FATIGUE
From time to time we all feel mentally and physically tired. It can be caused by unhealthy lifestyle choices, workplace problems and stress. Check out our tips below and learn how to battle fatigue.
Do nothing
Hectic lifestyles are exhausting. Find a few hours each week to just chill out and relax.
Be careful with caffeine
One or two caffeinated drinks per day can boost mental alertness, but more than six can make you irritable and anxious.
Get moving
Beat the post-lunch energy slump with a brisk walk or stretch for 10 minutes to get your blood flowing and boost your energy.
Don't skip meals
Going too long without food causes blood sugar levels to dip. Eat regularly to maintain blood sugar levels throughout the day.
Is the amount of Essence of Chicken in BRAND'S® IBCE equivalent to a bottle of BRAND'S® Essence of Chicken?
Based on the daily dosage of two tablets, the amount of Essence of Chicken is 800 mg. As BRAND'S® IBCE also contains Vitamin B Complex, Iron and Vitamin E, it can't be compared directly with a bottle of Essence of Chicken.
Won't it be better if I just took the iron tablets alone since it would be more "concentrated"?
Our unique feature is the combination of Iron with the goodness of BRAND'S® Essence of Chicken. The addition of BRAND'S® Essence of Chicken aids in the absorption of Iron in our bodies, enabling it to be utilised more efficiently. The dosage of Iron is in accordance with the Recommended Dietary Allowance (RDA). Too much of certain nutrients, such as Iron, do more harm than good.
I heard that BRAND'S® Essence of Chicken is heaty. Is BRAND'S® IBCE also heaty?
Although chicken is a neutral to slightly warm food, consuming BRAND'S® Essence of Chicken and BRAND'S® IBCE does not necessarily contribute to "heatiness". "Heatiness" can be attributed to several factors, your body's constitution, climate or lifestyle factors, including a lack of sleep, reduced water intake or stress.
BEST WAY TO CONSUME
For best results, it is recommended to take two tablets daily.
Essence of Chicken Powder
800 mg
Sodium Iron (III) EDTA (10 mg iron)
76.9 mg