Tracking Number = Order Number
Step into freedom with Suntory Locomore, the No. 1 Glucosamine brand in Japan. It enables you to walk independently and confidently through 7 effective ingredients that support joint health, muscle health and walking speed after 8 weeks. 6 mini tablets daily are all you need to go the distance!

※ BRAND'S is an official distributor in Singapore. Please make your purchase through our official platform to have peace of mind about authenticity, freshness and quality of product.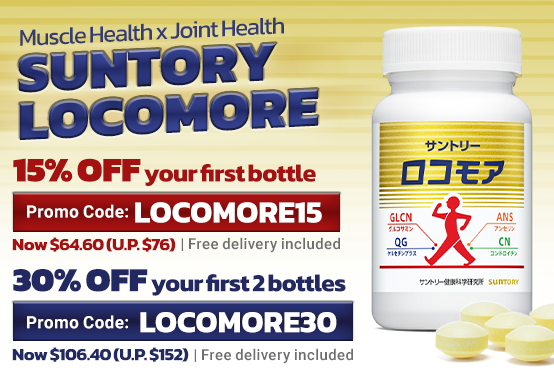 Walking speed declines over lifetime
Slower walking speed is caused by a
weakening of knee joints and leg muscles.
As years go by, we will experience wear and tear of joint cartilage, or the tissue that cushions joints. Structural cartilage components such as glucosamine and chondroitin decrease with age.
Thus it is essential to care for your knee joints and leg muscles to continue walking independently and confidently!
Furthermore, muscle mass decreases by 40% on average from 20 to 80 years of age.
Do you or a loved one experience
locomotive difficulties?
Falling behind when walking with others
Difficulty in walking up and down steps
Having a fear of losing balance due to weak legs
Having joint stiffness or discomfort
Finding it hard to stand after sitting for long
If you or a loved one said yes to one or more difficulties, regain locomotive freedom with Suntory Locomore!
Ingredients for muscle health
Anserine:
Locomore uses this source of vitality from migratory fish like tuna and bonito. They swim without rest over their lifespan. Anserine helps to improve blood flow to leg muscles and supports muscle building.
Quercetin Plus:
Has a suppressive action on leg muscle atrophy. Locomore uses quercetin from Sophora japonica, otherwise known as Japanese pagoda tree. Through years of research, Suntory enhanced quercetin's absorption capacity to form Quercetin Plus.
Vitamin D:
Helps to regulate the amount of calcium and phosphate in the body, which are nutrients to keep bones, teeth, and muscles healthy.4
Ingredients for JOINT health
GLUCOSAMINE:
A structural component of joint cartilage that decreases with age. It may help to reduce joint swelling and stiffness5. Locomore uses glucosamine from crab and shrimp shells.
CHONDROITIN:
Another structural component of joint cartilage that decreases with age. It helps to keep cartilage healthy by absorbing fluid (especially water) into connective tissue6. Furthermore, it provides the body building blocks to produce new cartilage. Locomore uses chondroitin from shark cartilage.
Type II Collagen:
A protein that forms a big part of cartilage.
Proteoglycan:
Another protein that is part of cartilage. It helps to retain moisture in tissue and protect cartilage from deterioration7.
Helps to relieve joint pain in 8 weeks
In one study conducted among participants who had experienced knee joint pain, their JKOM score improved after 8 weeks of taking Locomore8.
JKOM stands for Japanese Knee Osteoarthritis Measure9. It measures knee pain and physical function in patients.
Improves walking speed in 16 weeks
In one study conducted among participants who had experienced a decline in walking speed, their walking speed improved after 16 weeks of taking Locomore10.
Users who are walking
independently and confidently
Male, in his 40s
I am very satisfied with Locomore. I recently ran my first marathon.
Female, in her 50s
I have loved sports since I was young. I have always had the habit of going to the gym and never worried about mobility. But at this age, it is inevitable to start paying attention. I get help from Locomore!
Female, in her 60s
As I got older, it was getting harder and harder to go about my daily life. Since I started taking Locomore, walking has become more enjoyable.
Male, in his 70s
I can walk 10,000 steps every day, keep my job, and feel physically and mentally fulfilled.
Female, in her 80s
Even now, at the age of 88, I can still shop alone at a department store. Thanks to Locomore!
FAQ
Is BRAND'S® Home Delivery an official distributor of Suntory Locomore in Singapore?
Yes, please be assured that the Locomore you purchase on our online store or order hotline is the same as the one sold in Japan by Suntory Wellness.
How does Suntory Locomore differ from other glucosamine and chondroitin supplements?
Glucosamine and chondroitin supplements support joint health by reducing inflammation and protecting cartilage. Locomore has a 2-in-1 formula to support muscle health in addition to joint health. It is an effective combination of 7 ingredients. It is important not to neglect your muscles. Muscle mass decreases with ageing.
What positive changes can I experience after taking Suntory Locomore?
You may notice positive changes in walking speed and joint health. Results would vary from person to person.
After taking Suntory Locomore, I have experienced positive changes. Should I continue taking it on a regular basis?
Yes! Consistent consumption of any supplement is important to long-term effectiveness. We recommend continued consumption of Suntory Locomore daily to reap the most out of your investment in health. You can also consider auto-replenishment for yourself or loved ones, by becoming a Subscribe & Save VIP member here.
Important Information
Allergies: Not suitable for consumers allergic to seafood and shellfish. Suitable for adults: 6 mini tablets daily, at any time. Method of use: Consume with water. Active ingredients (per 6 tablets): Glucosamine hydrochloride (1200 mg), Chondroitin sulfate (60mg), Quercetin glycoside (90 mg), Anserine (10 mg), Type II collagen (45 mg), Proteoglycan (1000 µg), Vitamin D (5.0 µg)
Advisory
If you are pregnant or lactating, under medication and/or have certain health conditions like food allergies, please consult your healthcare professional before consuming this product.
1. H-B Foods Marketing Handbook 2009-2022 Function-Oriented Food《Glucosamine Ingredient Category Share* 2007-2020 Sales Value (Fixed)》Fuji Keizai Co., Ltd
2. Total sales as of December 2018
3. Independent Digital News and Media. (2020, September 24). The average adult 'walks around world three times' in their lifetime. The Independent. Retrieved July 16, 2022, from https://www.independent.co.uk/news/health/step-count-adult-lifetime-round-world-three-times-b573751.html
4. NHS. (n.d.). NHS choices. Retrieved July 16, 2022, from https://www.nhs.uk/conditions/vitamins-and-minerals/vitamin-d
5. Glucosamine. Mount Sinai Health System. (n.d.). Retrieved July 16, 2022, from https://www.mountsinai.org/health-library/supplement/glucosamine
6. Chondroitin. Mount Sinai Health System. (n.d.). Retrieved July 16, 2022, from https://www.mountsinai.org/health-library/supplement/chondroitin
7. Proteoglycans as a critical facet of a healthy extracellular matrix. Clinical Education. (n.d.). Retrieved July 16, 2022, from https://www.clinicaleducation.org/resources/reviews/proteoglycans-as-a-critical-facet-of-a-healthy-extracellular-matrix/
8. Kanzaki, Noriyuki et al. "Glucosamine-containing supplement improves locomotor functions in subjects with knee pain: a randomized, double-blind, placebo-controlled study." Clinical interventions in aging vol. 10 1743-53. 28 Oct. 2015, doi:10.2147/CIA.S93077
9. Akai M, Doi T, Fujino K, Iwaya T, Kurosawa H, Nasu T. An outcome measure for Japanese people with knee osteoarthritis. J Rheumatol. 2005 Aug;32(8):1524-32. PMID: 16078330.
10. Kanzaki, Noriyuki et al. "Glucosamine-containing supplement improves locomotor functions in subjects with knee pain: a randomized, double-blind, placebo-controlled study." Clinical interventions in aging vol. 10 1743-53. 28 Oct. 2015, doi:10.2147/CIA.S93077