Stringent production process
Stringent implementation of internationally certified manufacturing and safety standards
We have received various international quality standard certifications, including ISO9001, ISO14001, ISO22000, GMP and HACCP.
State of the art manufacturing process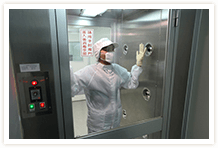 Our manufacturing facilities located in Thailand, Taiwan and Malaysia regularly welcome visitors from government bodies, NGOs and customers to a full and unobstructed view of our manufacturing facilities and equipment. Such transparency ensures you can enjoy our products with peace of mind.
Rigorous inspection to deliver flawless quality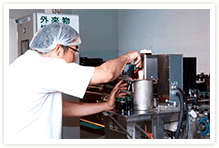 Essence of chicken is extracted in a 10-hour long steam cooking process under high heat and pressure. Each step of the process is carefully monitored and controlled by computers to maintain the optimal temperature and pressure. The product goes through as many as 500 quality control and inspection steps to ensure maximum quality, while any residual fat content is completely removed using advanced technology so that only the nutritious essence remains.
Learn more ► Rigorous inspection